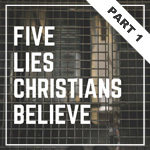 Have you ever been duped? Ever let a fast-talking salesperson convince you to buy something didn't need? Worse, you have ever believed something someone told, only to find out later it was a lie? At some point, we've all believed a lie. Sometimes we have even defended the lie. (At least until we found out the truth.)
Over the next few weeks, we are going to look at several lies Christians believe. These lies keep us from experiencing all God has for us.
Here's the problem, when you believe a lie, you become deceived. When you are deceived, you don't know that you are deceived. If you knew you were deceived, you would do something about it.
Satan is the great deceiver. He is always trying to sell us a lie. He deceived Eve by whispering in her ear that God was holding out on her and if she ate from the tree she would be like God. He is still in the deception business, and so many Christians believe his lies.
This week we look at the first of 5 lies Christians believe.
The first lie is this, "I can have my sin and the blessing of God."
This lie could be rephrased to "I can live as I please and still expect God to answer my prayer and bless my life.
At the heart of this lie is a redefining of sin and a redefining of God's blessing.
When Sin Stopped Being Sin
In many ways, we have reduced sin from an offense against a holy God to a mistake. Sin is like speeding; it's nothing personal, it's just the way things are. Sin has become a forgotten topic, even in the church. When was the last time you heard a minister talk about sin and the need for repentance? We have accepted our sinfulness as the norm instead of the exception.
Sin is not an error in judgment, a slip up, a mistake, or a weakness.
Sin is disobedience to God.
Sin is a choice. It is choosing between what God says and what I want. Sin is defiance in the face of God. Few Christians would openly say "no" to God. We would never raise our fist and declare "I don't care what You say, I will do as I please." However, this is exactly what sin is. Sin is choosing our way over God's way. Sin is turning our back on God to pursue our desires. It stomps on everything Christ did on the cross.
Sin begins with a thought, then an attitude, and finally an action. All along the way, the Holy Spirit is speaking to us, calling us back to obedience. The Bible promises that with every temptation, there is a way of escape.
No temptation has overtaken you but such as is common to man; and God is faithful, who will not allow you to be temptedbeyond what you are able, but with the temptation will provide the way of escape also, so that you will be able to endure it. – 1 Corinthians 10:13
Since God has given us a new nature, we as Christians enters into sin, with eyes wide open, ignoring the prompting of the Holy Spirit, and choosing sin over obedience to the Father.
Because of this attitude, we become separated from the presence of God. Our sin creates a barrier between God and us.
Even as Christians, our sin will separate us from the presence of God working in our life.
It's your sins that have cut you off from God. Because of your sins, he has turned away and will not listen anymore. – Isaiah 59:2
When we feel our prayers aren't getting above the ceiling, or God is ignoring us, we need to check our heart. Are there sins we need to confess and repent?
Many years ago, I counseled a young ministry student who was doubting his salvation. He was unable to connect with God as he had in the past. As we talked, I asked about his relationship with his girlfriend. He became a little nervous, so I pressed a little deeper. The issue wasn't that he wasn't a Christian. The issue was that he was sleeping with his girlfriend. He knew it was wrong but was unwilling to repent (change), so he separated from God.
We must return to calling sin what it is. We must repent of our sin and walk in obedience to God.
RedefiningGod's Blessing
The word "Blessed" has become a popular phrase. We hear it at church, on Christian radio and even at the grocery store. "How are you today, I am blessed!" I understand the idea, but God's blessing is far more specific.
The blessing of God is the favor of God. To be blessed is to be truly happy walking in fellowship with God. God desires to bless His children. God's blessing flows on those who are "Blessable."
The blessing of God is conditional. In Matthew 5, Jesus gives nine qualities of those who are blessed.
The blessing of God flows with the presence of God. When I walk in fellowship with God, I walk in His blessings.
When we live according to the conditions set forth by God, we live in His blessing. When we live outside of his will, He withdraws His blessing and works in our lives to bring us back to Him. To the church in Revelation 3,He says,
 Those whom I love, I reprove and discipline; therefore be zealous and repent. – Revelation 3:19
God loves us so much that as His children when we sin, He disciplines us to that we will turn from our sin follow Him more fully.
It's simple, I can't walk in sin, and walk in God's blessing.
Why does all this matter?
God calls you and me to live holy lives because He is holy. He has given us His Holy Spirit to empower us to live holy. Now I am not talking about a legalistic set of rules full of does and don'ts. But God's grace is not a license to sin. Holy living is living according to the Word of God and the leadership of the Holy Spirit.
The God we serve is holy. He calls us to live holy lives. Christ died on the cross to forgive and set us free from our sin. He gave us the Holy Spirit to empower us to live a holy life before God. When we sin, He calls us to repent of that sin and to seek renewed fellowship with Him.
His blessing flows over those who walk in obedience and under His lordship. God blessing accompanies His presence. When we live obedient lives before Him, He can bless us.
When we live in obedience and under the Lordship of Christ, we walk in the blessing of God.
God free us from this lie and let us live lives holy before you.
Are there areas in your life where you have accepted sin as the norm and turn your back on God in that area? Maybe you have believed this lie so many Christians believe.