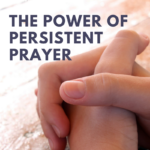 Have you ever given up too soon? Maybe you were trying to learn to play the piano or guitar. You worked on it for a few months but gave up. Maybe you tried to learn a new skill, lose weight, or get in shape, but for whatever reason, you gave up before you saw the results.
Persistence is about staying on a course of action in spite of difficulties or opposition. God calls us to be a people of persistent prayer.
The Law of Persistence
Persistence is an important part of success. Stories abound of men and women who were persistent in their goals; they refused to give up. They followed their dream when all their friends and family said quit. They found success because they were persistent.
There are also many others who failed because of their lack of persistence.
In 1952, Florence Chadwick attempted to be the first woman to swim the 21 miles from Catalina Island to the California shore. After 15 hours of swimming in the bone-chilling water, she gave up. She felt she couldn't go on. The dense fog made it impossible to track her progress, and the cold water took its toll. When she climbed into the boat, and they headed for shore, they discovered she was only a half mile from her goal. She gave up too soon. She had almost reached the goal but stopped short. Two months later she tried again, and this time was successful.
Life rewards those who are persistent, who never give up, and who continue until they complete the course.
Sometimes my pray life lacks persistence. I bring my request to God with great fervor today, but by tomorrow, I have forgotten my prayer and have moved on to other things. Have you ever prayed for something, but when the answer didn't come immediately you forgot about it or just quit praying?
What is Persistent Prayer?
Persistent prayer is prayer that doesn't give up. It's praying for something until God either answers the prayer, or He tells us to stop praying. Persistent prayer is standing in faith that God will answer your prayer. It never stops until it receives God's answer.
God honors persistent prayer. Here are three important truths about the power of persistent prayer.
Persistent Prayer Honors God
Persistent prayer is a confession that I will seek what I need only from the hand of God. When I bring my need to Him, I am saying that He is the source of all I need. The persistent prayer says, "I will look to God for this need. I will continue to look for His supply, and I will continue to pray until God answers me. I don't pray until something happens, I pray until God answers. Persistent prayer honors God by confessing that He is my supply and He will answer my prayer on His timetable. Persistent prayer is a statement of faith that my loving God will answer my prayer.
Persistent Prayer Reveals My Commitment
Often we bring fleeting prayers to the Lord. We pray today but forget to pray tomorrow. We bring our request to God today, but never bring it up again. Persistent prayer is committed to continually asking God until He answers. I will not give up; I will not quit, I will not try other things. I will bring my prayer to God every day until He tells me to stop.
The Gospel of Luke gives us insight into what Jesus thinks about persistent prayer.
Then Jesus told his disciples a parable to show them that they should always pray and not give up. – Luke 18:1
He then tells the story of a woman who comes before a judge asking for justice against her enemy. This judge is an unrighteous man who doesn't care about God or people. But since she continues to bring her request to him, he gives her what she asks.
Jesus explains the parable in verse 6
And the Lord said, "Listen to what the unjust judge says. And will not God bring about justice for his chosen ones, who cry out to him day and night? Will he keep putting them off? I tell you, he will see that they get justice, and quickly." – Luke 18:6-8
If an unjust judge will give a poor woman what she asks because she comes to him every day with her request, how much more will your loving Heavenly Father answer your prayer?
Persistent prayer takes you to the place where God can do a great work for you and shows your commitment to Him.
Persistent Prayer Breaks the Resistance
When you pray, you turn loose the power of heaven in your life. Prayer also releases the storms of hell against your prayer. The kingdom of darkness will do everything it can to delay and resist your prayer.
Daniel was a powerful character in the Old Testament. He was a mighty man of prayer who God used again and again. God gave Daniel prophetic insight into the world around him. In Daniel 10, Daniel receives a revelation that he doesn't understand and begins seeking the Lord for understanding. He continues to prayer, but no answer comes. Finally, an angel appears to him. He says God answered your prayer on the day you prayed, but a spiritual battle has been raging in the heavenlies for 21 days between the kingdom of darkness and the Lord's holy angels. (v13)
If Satan can't keep you from praying, he will do everything in his power to keep you from receiving your answer. Sometimes our prayers open a great battle in the heavenliest. We need to continue in prayer until we receive our answer. Satan was defeated on the cross, but He still tries to resist the work of God on every hand.
Persistence breaks the resistance
I believe as we are persistent in our prayer, we enter into the spiritual battle and strengthen the work of God. Don't give up on your prayer; an angel may be just around the corner with the answer.
One of the greatest men of prayer was George Mueller. He cared for over 10,000 orphans by asking God to provide for their needs. He raised hundreds of thousands of dollars just by asking God to provide. He was a great man of faith that God used in incredible ways. Here is what he said about persistent prayer.
"The great fault of the children of God is, they do not continue in prayer; they do not go on praying; they do not persevere!" – George Mueller
When we bring our request to God day by day and continue to bring the request to Him, we honor God, we show our commitment, and we break through the resistance of Satan.
What prayer have you given up on? What have you prayed for and when you didn't get an answer, you stopped praying? Is God calling you to go back and be persistent in your prayer?
I want to challenge you to be persistent in your prayer.
Imagine what might happen if for the next 31 days you brought your prayer daily before God and in faith claimed His answer.
Persistent Prayer says "I will continue to pray until either God answers my prayer, or tells me to stop praying."
What is your experience with persistent prayer? Share in the comments below.