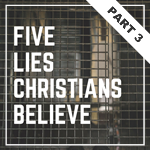 As Christians, we know we are to confess our sin. However, how we define confessing our sin and what the Bible means by confessing our sin may not agree.
Our definition of confession means to agree or admit something. Television shows like Law and Order play out the scene in the courtroom. The tension builds as the attorney grills the person on the stand. "Were you with the victim the night of the murder? Is this your knife that was used in the crime? Did, in fact, you no longer loved your wife? As the person on the stand becomes more emotional and sweat forms on his forehead, the District Attorney points to him and says, "Sir, did you kill your wife?" The man on the stand burst into tears and confesses "yes, yes I killed her." I confess.
When we confess our sin, we are acknowledging to God that we committed a particular sin. We have the promise of 1 John 1:9 that God forgives our sin when we confess the sin.
If we confess our sins, He is faithful and righteous to forgive us our sins and to cleanse us from all unrighteousness. – 1 John 1:9
Now here is the lie, what if nothing changes? What if after confessing that sin, I continue to repeat that sin again and again? (more…)