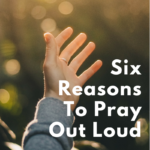 Let's talk about praying out loud. For many Christians, when it comes to prayer, spiritual insecurities seem to come out of the woodwork. Praying out loud is a practice that many Christians feel insecure and even embarrassed. I know some people who sweat bullets every time they are in a small group fearing that someone will call on them to pray out loud. Even in their personal prayer time, many Christians choose to pray silently, because of their fear of praying out loud. What about you? Are you a silent prayer, or do you lift your voice up to the Lord out loud?
There is nothing wrong with praying silently. There are times when praying silently may be the best and only option. When Nehemiah was questioned by the king in Nehemiah 2, he said a quick, silent prayer before he answered.
Hannah was a woman who was in deep distress because she couldn't bear a child. In 1 Samuel 13, she was praying with great intensity. However, the Bible says that even though she was praying with all her heart, only her lips were moving. She was praying silently to the Lord.
So although there is nothing wrong with praying silently, praying out loud is a wonderful and fulfilling practice to develop.
If you don't pray out loud regularly, here are six reasons you should make praying out loud part of your prayer life.
1. Jesus Prayed Out Loud
There is no question that Jesus had a robust and empowered prayer live. The disciples saw Jesus do many things, but in Luke 11 after seeing Jesus pray, the disciples asked Him to teach them how to pray. I can almost hear the disciples saying, "Wow, I want to pray like He prays." Throughout the gospels you see Jesus interacting with God the Father. We know He prayed aloud because the gospel writers recorded what He was praying.
2. Praying Out Loud Engages Your Mind and Heart
Have you ever been praying silently and had your mind drift off to something completely different? For some reason, every time I pray silently I suddenly remember all the things I need to do. In the midst of my prayer, I remember I need to have the car's oil changed, or I need to pay a bill or make a call.
Sometimes it's hard to concentrate as you pray silently. When you pray out loud, you hear yourself praying, and it keeps your mind focused on your prayer.
Praying out loud also helps us to be more candid and honest in our prayer. Sometimes I hear myself praying and I think, "I'm just saying spiritual words, my heart is not really engaged in what I am saying." Praying out loud helps engage our heart as we pray.
3. Praying Out Loud Reminds You Who You Are Praying To.
Relationships are about conversations. When we pray silently, we can sometimes think we are just talking to ourselves. When we pray out loud, it's easier to remember that we are actually speaking to a real person. We are "lifting our voice" up to the Lord. The Bible says in Exodus 33 that Moses talked with God the way a man speaks to a friend.  When we pray out loud, we pray to our Father who is with us. We can speak to Him as we do any other friend.
4. Praying Out Loud Makes confessing Sin More Real
There is something about confessing our sin out loud that changes things. When we hear ourselves confess our sin, it reminds us of just how offensive our sin is. To confess a sinful action or attitude out loud seems to make confession more real. Sometimes I hate to even say out loud the attitudes or thoughts I have had. Confessing my sin out loud helps me understand just how terrible my sin is and how much I need to repent.
5. Praying Out Loud is a Declaration to the Spiritual World
As I pray out loud I am declaring to the spirit world my faith in Christ. The kingdom of darkness trembles when a Christian kneels to pray. As I verbalize my prayer and faith in Christ, the spirit world around me hears that I am calling on Christ for my strength and protection. As I ask for God's help and favor, Satan and his demons listen in and tremble as I express my faith and trust in Christ.
6. Praise is Always Out Loud
Praise is always audible. Look through the Bible, and you see praise always declared. As you read through the Psalms you see words like shout, speak, sing, declare, speak. 95% of the Psalms use or invite audible praise. It's hard to praise the Lord with your mouth closed. Praise requires that we lift our voice in singing, or declaring the goodness of God.
As you learn to pray out loud, I think you will find new levels of fulfillment, concentration, and enjoyment. You will feel a deeper connection in your prayer life. You will be speaking to the one who has invited you into His presence as His child.
I'd love to hear your thoughts and experiences on praying out loud. Be sure and post your comments below.