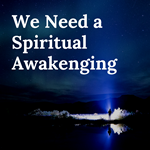 Watch any newscast for more than 5 minutes, and you realize our country is in deep trouble. Our screens are plastered with news of new scandals, divisions, and violence. Deception and immorality have become the norm instead of the exception. From politics to business and even in the church scandal seems to be the word of the day.
As hard as we may try, it's obvious we don't have the answers to the problems our country is facing. New programs, leaders, and ideas always seem to take us down the same road of hopelessness, fear, and anger.
What we need is a fresh work of God in our country, our churches and even in our lives.
There is a verse the Old Testament that has been calling out to me over the last few months. It is a promise of God for a time like this.
If my people who are called by my name humble themselves, and pray and seek my face and turn from their wicked ways, then I will hear from heaven and will forgive their sin and heal their land. – 2 Chronicles 7:14 (ESV)
In this simple promise, God says, if you will do these things, then I will do these things. His people are to do four things, and in response, He will do three.
The key to healing our country begins with a new work of God
The key to that new work of God begins with the people of God.
The starting point for healing our country is the church living in the power and purity God promised.
So many churches are in just as sad shape as our country. Research shows that 80% of churches are either stagnant or declining. We are no longer making an impact on our culture. As "salt of the earth" we have lost our saltiness. But God gives us a message of hope. If we call out to Him, He will bring healing and restoration.
This verse says His people are to do four things.
1. We must Humber Ourselves
James 4:6 says that God opposes the proud but gives grace to the humble. The beginning point of spiritual renewal is admitting that we don't have the answers. We must admit our need, not the needs of others and confess our need of Him
2. Pray
Prayerlessness is the evidence of our pride. Humble people don't cry out to God. I am amazed at the number of pastors and Christian leaders who confess their lack of prayer. If we are going to see God move in churches, we must return to a place of priority in our lives, and churches.
3. Seek His Face
Are we willing to go through our day without the presence of God? Are we actively seeking His presence in every area of our life? We have the promise that if we seek after Him, we will find Him. () But we must make His presence the priority of our lives.
4. Turn from Our Sin
Our country has lost its moral compass because we have ceased to raise the banner of truth in our world. Holy living is a missing topic in many of our churches. The greatest lie the church has accepted in the last few years that I can have my sin and the presence of God. If we are going to call on Him and seek His face, we must be willing to set aside those things that don't please Him.
When we do these four things, God promises He will do three things.
1. He Will Hear Our Prayer
Isn't it wonderful to know that our prayers won't land on deaf ears. When we fulfill these first four requirements, He will hear our prays and answer.
2. He Will Forgive
Forgiveness is always the doorway to healing. When we turn from our sin, God is ready to forgive our sin.
3. He Will Heal Our Land
Healing is about restoration. Healing our land may mean healing in our own family and relationships. Healing our land will bring about an empowered church that changes the culture.
In response to this important promise, I am calling Christians to begin claiming and praying this verse together.
This coming Tuesday we begin 714PRAYER. 714PRAYER is a call for Christians to stop once a week and pray for spiritual awakening and renewal. I am inviting you to join other Christians at 7:14 every Tuesday to pray.
Imagine what could happen if Christians everywhere stopped at 7:14 and prayed 2 Chronicles 7:14 together? It just might begin to open the doors for healing in the church and across the country.
If you would like to join us in praying at 7:14 on Tuesdays, just click the button below and sign up. You will receive an email at 7:14 every Tuesday with a topic and as a reminder.
The goal of 714PRAYER is to create a movement of pray for spiritual renewal and awakening. Join us in praying 2 Chronicles 7:14
What are your thoughts on the need for spiritual awakening in our country and in our church? Let me know in the comments below.