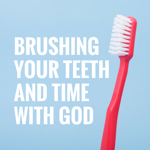 So, which is more important, brushing your teeth or spending time with God? The answer seems obvious right? Of course spending time with God is more important than brushing your teeth.
Now a couple of follow up questions. "How often to do you leave the house in the morning without brushing your teeth? If you are like me; never. Brushing my teeth is part of my morning ritual.
How often do you leave the house in the morning without spending time with God? Ouch, that one stings a little. I intend to spend time with God, but sometimes if I am running late, or things come up, I may miss it.
If spending time with God is so important, why is it so hard to make time for prayer and Bible study?
When I was in college, I learned a lot about my Christians life from my roommate. The first two years of college I spent at a state university. My roommate was not a Christian. He was however into meditation. This was long before the days of "New Agers," so I guess he was way ahead of his time.
He believed that through meditation, he could connect with the universal conscience. Every morning he would spend 15 minutes meditating. What bothered me was his incredible dedication to this practice. It didn't matter if he went to bed early, stayed up late, or overslept, he always did his 15 minutes. If it meant missing a class or being late, he meditated for 15 minutes.
At the same time, I was very dedicated Christian. I was serious about growing in my walk with God. I tried to have a prayer and Bible study time every day. However, if I was running late, or overslept, my time went right out the window. I was convicted that his dedication to connecting with the universal conscience, was greater than my commitment to having a one on one conversation with the living God. His was a matter of commitment; mine was a matter of convenience.
The only way we can grow in our walk with God is through spending person time in prayer and Bible study. God speaks to us through His word, we speak to God in prayer.
As good as it is, Sunday morning church isn't enough. Listening to a podcast or Christian radio won't cut it. Even reading a devotional book, is helpful, but no substitute for spending private time with God. A great worship service is uplifting, but it's not the same as a personal time of worship.
So how do we make the time for personal prayer and Bible study?
Is your personal time with God a commitment, or a convenience?
One way to become more consistent in your prayer time with to add it to your morning ritual. We all have morning rituals. Those things we know we have to accomplish before we leave the house in the morning. Whether you are a rush out the door person or someone who likes to take it slow and easy in the morning, we all have those tasks that we have to accomplish every morning.
You get up, maybe take a shower, brush your teeth, get the kids up, and a dozen other things. You allocate the time needed to accomplish everything in your morning ritual.
So, why not expand your morning ritual to include a personal prayer and Bible study.
Between brushing your teeth and getting ready for the day, why not insert a few minutes alone with God. It doesn't have to be a 30 minute in-depth Bible study or an extended time of prayer. Read a chapter in the Bible, then talk with God about what you read and what is on your mind. It's a perfect time to dedicate the day to the Lord. To make His priorities, your priorities. It's a wonderful way to put the day into the proper perspective.
I saw this practice lived out in my mother's life. There was always a marked Bible in her bathroom. She said this was the only place she could have any privacy raising two young boys. She made prayer and Bible study part of her morning ritual.
If you would never leave the house without brushing your teeth, why not give God the same priority.
By including our time with God in your morning ritual, you become more consistent, and your time with God becomes automatic. You allow God to speak to you before all the cares and worries of the day take hold of your heart.
I'd love to hear your thoughts about putting God into your morning ritual. Let me hear from you in the comments below.
Just a reminder, we are in a spring support emphasis.
This ministry is only possible through the financial support of friends like you. Please consider becoming a member of the National Prayer Room through a monthly donation. Here is the link to the donation page. Join me in encouraging prayer and spiritual awakening.