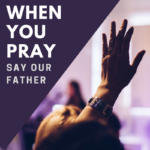 Jesus had the richest prayer life of anyone who has ever walked on this Earth. The Disciples saw Jesus do many things, from feeding the crowds to healing the sick and even raising the dead, but when they saw Him pray they were amazed. One day the disciples asked, "Teach us how to pray." I have a feeling they were asking, "Jesus, teach us how to pray the way you pray."
In Matthew 6, Jesus gives us the model prayer. Traditionally, it's called the Lord's prayer, but it was really a model designed to teach us how to pray.
Jesus began the model prayer with the words "Our Father." What words do you use when you pray? How do you address God?
Jesus could have used a number of different titles as he addressed God. He could have used Master, Lord, Sovereign, Provider, Protector, King of all Creation, or a hundred other, but He used "Father."
This was a revolutionary term in addressing God. It implied a new level of intimacy and relationship. Jesus urges us to address the living God as "Father."
Jesus moved prayer from an act of pleading with a distant deity, to a conversation with a loving father. "Father" is an intimate term.
Jesus invites us to call the creator God – Daddy.
He is our Lord, He is our Master, He is the Creator, and King of Kings, but He invites us to call him "daddy."
Paul reminds us that we are not slaves but adopted sons.
For you have not received a spirit of slavery leading to fear again, but you have received a spirit of adoption as sons by which we cry out, "Abba! Father!" – Romans 8:15
As children of God, we can call Him "Abba." Abba is an intimate term for father.
A Unique Relationship
We can call God, father because of our relationship through faith in Christ. We are no longer strangers, but children of the living God. We are all made in the image of God, but only those who have come to Christ in faith can be called "Children of God."
Father's know their children. They are proud of them and always want the best for them. How many new fathers have looked at their newborn child and seen a great baseball player, a great actor, or Olympian? (Mothers always see doctors and layers). Your Heavenly Father knows you and wants the best for you.
Of the billions of people on the earth, God knows you. Like a mother who hears her child calling in a crowd, God knows your voice. As His child, His ear is always attentive to your call.
Relationship Brings Access
Through this unique relationship as His child, you have unreserved access to the throne room of God anytime day or night. From a dedicated time of prayer to a quick prayer uttered before an important meeting, God hears your prayer no matter where you are.
When we understand that God is our Father, we can share our most intimate problems, struggles, and desires. We can come boldly into his presence without fear or condemnation.
Everything Flows Out of Our Relationship
Every other request made in the model prayer is based on this first important statement. When you understand that God is your father, everything revolves around that relationship. We get so focused on our performance; have I done what I should do? Is my sin confessed? Have I been good person? We think about performance, but God thinks about relationship.
Our Faith Grows As We Understand God as Father
Children believe their fathers can fix anything. How many times have my children brought a toy, a bicycle, or even a car to me because they thought their father could fix anything. I have never seen my children worry about where the next meal will come from, as their father, they expect me to provide for their needs.
We can wrestle with our own broken toys, or we can bring them to our Heavenly Father. How many times have been we ashamed to bring our problems to the Lord, when all the time He is ready and able to fix them.
Children Receive Their Father's Love
No matter what the situation, you cannot break the Father's love for you. Jesus told of the wayward son who took advantage of his father, led a life of rebellion and sinful pleasure. It must have broken his father's heart to see him leave home, but when he returned broken and ruined, the father was there to welcome him home. God is always ready to welcome you back into His arms. God's love goes beyond our rebellion and foolishness.
Children Aren't Afraid to Ask
Children are never afraid to ask for what they need from their father. They boldly ask for whatever they think will make them happy. So often we fail to ask for what we need because we are uncertain of the Father's love.
The more you understand your relationship with your Heavenly Father, the more you can freely ask for the things you need. Do you need direction and wisdom? Ask the Father. Full of fear? Ask the Father. Need strength for a major challenge? Ask the Father. Whatever you need, as a Child of God, you can ask your Heavenly Father.
Children Seek Protection from Their Father
Several years ago, when my daughter was about five years old, we went to a Walmart in another part of town. Most everyone there was speaking Spanish. As we walked through the store, I noticed she had drawn very close to my leg and was holding my hand tightly. When I stopped and asked her what was wrong, she said she was afraid because she couldn't understand what people were saying. I picked her up in my arms and carried her through the store. Her fear vanished as she rested in the arms of her father. There is never a need for the child of God to live in fear or worry. All we need to do is climb into the arms of our Heavenly Father. He will comfort and protect us.
Jesus began the model prayer with "Our Father." When we pray, we are speaking with the King of Glory, the Creator God, and the Lord over everything, but we are also talking to our father. Prayer is like a little child crawling up in his father's lap to express his love, experience his presence and share his needs. As we learn to pray to "Our Father," our prayer life will take on new levels of intimacy and joy.
When you pray, pray like this "Our Father." – Jesus
Let me know your thoughts in the comments below.