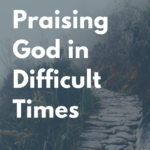 I remember sitting in my office when my boss came in. He had come in unexpectedly, late in the day and was now sitting in my office across my desk. As he began talking about the organization and what changes were coming, I became more and more concerned. At one point I stopped him and asked, "Wait a minute, are you firing me?" He said, "No, not firing…" "I asked, am I working here tomorrow?" He simply said, "No."
I remember driving home that day thinking what am I going to do? I have a wife and three kids at home; we had very little saving, what is going to happen? How will we make it?
We have all had those times when life seemed to make an unexpected left turn. Suddenly, we are on a detour down a dark and dangerous path. We may have lost a job, lost a spouse, or our health. Whatever the reason we now face an uncertain future, and fear of tomorrow.
When we face difficult times, how are we to respond?
As strange as it may sound, learning to praise God during our difficult times can give us peace, hope and invites God right into the situation we are facing.
Praise is Always a Choice
The Psalmist said,
I will bless the Lord at all times; His praise shall continually be in my mouth. – Psalm 34:1
Praise is always a choice. Even in difficult times, we can choose to praise God. I can choose to allow fear and worry to control my heart and mind, or I can choose to praise the Lord and confess that He is in control.
Lifting our voice amid difficult times is not always easy, but it is a choice. When I chose to praise the Lord even in hard times, at least three things happen.
1. Praise moves my focus from myself to God
Going through difficult times is simply part of life. God never promised us isolation from hardship or challenges. During those times, it's easy to get completely focused on me and my problems. If we are not careful, we can become so centered on the problem, that we forget the problem solver.
The Psalmist said,
Why am I so depressed? Why this turmoil within me? Put your hope in God, for I will still praise Him, my Savior and my God. – Psalm 42:11
When I praise God during difficult times, my focus moves away from me and moves to God. Many years ago, I heard a preacher say, too often we gaze at our problems and glance at God. However, we should be gazing at God and glancing at our problems.
As we praise God in difficult times, move our focus from ourselves and onto the one who loves and cares for us.
2. Praise Reminds Us that God is in control.
As I praise God during the difficult times, I am reminded that God is still in control. God is never surprised by the things that come into my life. God never says, "Wow, I didn't see that coming, I hope Billy makes it through this."
Jesus said in Matthew 10:29-31
Are not two sparrows sold for a cent? And yet not one of them will fall to the ground apart from your Father. But the very hairs of your head are all numbered. So do not fear; you are more valuable than many sparrows. – Matthew 10:29-31 (NASB)
When we praise God in difficult times, we are reminded that our Heavenly Father is not only aware of our situation but is in complete control. He not only cares but promises to strengthen and help us.  The prophet Isaiah said,
Do not fear, for I am with you; Do not anxiously look about you, for I am your God. I will strengthen you, surely I will help you, Surely I will uphold you with My righteous right hand. – Isaiah 41:10
When we praise God in difficult times, we gain new hope as we remember that God is in control and is working for my good.
3. Praise is a Confession of My Dependence on God
When I praise God in difficult situations, I am confessing my dependence on Him. When I lift my voice in praise, I am confessing that He is my only true source. I look to Him for wisdom and guidance, knowing that He is a faithful Father who loves me.
When I am afraid, I will put my trust in You. In God, whose word I praise, In God I have put my trust; I shall not be afraid. What can mere man do to me? – Psalm 56:3-4
As I praise God in difficult times, I remind myself that my only hope is in Him. I confess to God and myself that I am completely dependent on God as my provision and help.
Here are a few practical suggestions on how you can praise God in difficult times.
Practical Applications
It may not seem natural, and you may feel uncomfortable, but go ahead and praise God. Don't fake it, be honest. God already knows your heart, so if you don't feel like praising Him, tell Him, but praise Him anyway.
Verbalize your praise. Praise is meant to be heard. Don't praise Him silently, praise Him openly and verbally. There is something powerful about hearing our own voice praise and worship the Lord.
Use fear and worry as indicators of when to praise the Lord. When fear and worry raise their ugly heads use them as reminds praise the Lord. Counter fear and worry with praise and worship.
Allow God to teach you as you walk through the situation. God never wastes any event in our life, He wants to grow us to be more like Christ through every situation we face.  As you praise Him, ask what you can learn through this experience.
Review God's work in your life in the past and praise him for it. Part of praise is reviewing God's faithfulness in the past. As you review His goodness and provision in the past, you will find new strength to face the problems of today.
I pray you will fill your life with praise to the Lord. I pray that in the difficult time of life you will lift your voice in praise.
Have there been times when you faced a major struggle and found your heart of praise? I'd love to hear your story, share it in the comments section below.