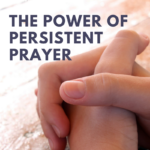 Last week we talked about the importance of persistent prayer. Prayer that doesn't give up. Prayer that keeps bringing the request to God until either He answers, or he tells us to stop praying. We talked about how Persistent Prayer honors God, how it reveals my commitment and how it breaks through Spiritual resistance.
This week we look at a promise Jesus made regarding persistent prayer.
Persistent prayer is a forgotten practice in the church today.
We live such busy lives that we hardly make time for prayer, let alone persistent prayer. However, Jesus said that those who persistently come before the Father with their requests will have their answer.
In Luke 11 Jesus tells the story of a man who has unexpected company arrive at his house at midnight. Since they have been on a long journey, the man wants to provide them with a meal. The problem was, he doesn't have anything to offer them. He didn't even have enough bread to feed them sandwiches. So he goes to the neighbor, knocks on the door and asks to borrow some bread
Unfortunately, because of the lateness of the hour, the neighbor refuses.
I can just imagine the scene. "Knock, Knock, knock."
"Who is it?"
"Hey Charlie, it's me, Frank."
"Go away."
"I need to borrow some bread, some friends have arrived from a long journey, and they need something to eat."
"I said go away."
"Knock, knock, knock."
"I am so sorry, but I need to borrow some bread."
"Go away, my kids are all asleep, and if I get up to help you they'll all wake up, and then I'll have to get them back to sleep, and I have an early morning. Go away!"
"Knock, Knock, knock."
"I am so sorry, I hate to keep bothering you, but I really need to borrow some bread."
Jesus says that even though the neighbor won't get up to give him what he needs because of their friendship, he will get up because of the man's persistence.
If you have children, you can relate to this story. Having raised three children I know what it is like to finally get the kids in bed, the lights off and just snuggle under the covers when you hear a little voice "Daddy!" (For some reason my wife trained all our kids to call out for daddy in the middle of the night.)
In the most loving voice you muster, you shout – "Go to sleep."
"Daddy!"
"Go to sleep."
"Daddy!"
Finally, in frustration, you throw the covers back, walk through the dark house (usually stepping on a Lego or some other sharp-edged toy) and deal with the need for a drink, the shadow that looks like a monster, or whatever issue your child was crying out about.
Keep on Asking, Seeking and Knocking
Now, Jesus says in verse 9
"So I say to you, ask, and it will be given to you; seek, and you will find; knock, and it will be opened to you. For everyone who asks, receives; and he who seeks, finds; and to him who knocks, it will be opened." – Luke 11:9-11
These three phrases build on one another. The beginning point of prayer is asking. Just as a child willingly asks his father for his needs, so we ask our God for our needs.
Seek is the next step. It puts action behind the ask. It's the idea of actively asking.
Knocking is the higher level. In the parable, the man goes to his friend, he asks for help, he seeks the help of a friend and then knocks on his door.
I can hear him quietly coming to the door and calling into his neighbor's house. When he doesn't get what he wants, he asks a little louder, and then begins to knock quietly, then begins to bang on the door.
The Amplified Bible gives us a clear understanding of this verse.
So I say to you, Ask and keep on asking and it shall be given you; seek and keep on seeking and you shall find; knock and keep on knocking and the door shall be opened to you. – Luke 11:9
Keep Praying
So often we send our little prayer up to God like a helium balloon, then go on our way expecting the heavens to open and God's answer to pour out. Sometimes we need to continue in prayer. We need to keep on asking, keep on seeking and keep on knocking.
Jesus ends this teaching in verse 11; It's a wonderful promise that sums up persistent prayer.
If you then, evil as you are, know how to give good and advantageous gifts to your children, how much more will your Father Who is in heaven [perfect as He is] give good and advantageous things to those who keep on asking Him! – Matthew 7:11
If we as earthly parents know how to give good gifts to our children, how much more with our heavenly Father hear and answer our request when we keep on asking?
Are you persistent in your prayer or are you praying once then hoping you get an answer? Is there a request you have abandoned because the answer didn't come right away?
Jesus invites you to keep on asking the Father what you need. Keep on asking, keep on seeking and keep on knocking
Persistent prayer is the secret to opening the doors of heaven and receiving God's answer.
I have created a special tool to help you be more persistent in your prayer. It's a prayer reminder that allows you to enter your prayer request, and every day for the next 31 days, I'll send you an email reminder to pray for that request.
It's free of charge and my gift to you to help you grow more persistent in prayer.