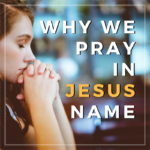 Why do we end our prayers with the phrase "in Jesus name?"  Is it just a closing tag like, "sincerely yours?" Is it a way to let people know that you're about to end your prayer? Is it a magical phase that ensures God will answer our prayers?
Praying in Jesus name is not just a tagline and not a magic phrase, it's the basis of our ability and right to come into God's presence with our request.
Here are three reasons we pray in Jesus name.
Praying in Jesus name is about Access
Jesus death on the cross opened the door to the presence of God. When we pray in Jesus name, we come to God claiming the righteousness and the finished work of Christ on the cross. His sacrifice has made a way for us to enter into the presence of God. It's not about my righteousness or my good works. It's about the holiness of Christ imparted to me through faith in Him.
Because I've placed my faith in Christ, I can come boldly into God's throne room and make my request to Him. I love how Hebrews 4:14-16 reads in the Living New Translation.
So then, since we have a great High Priest who has entered heaven, Jesus the Son of God, let us hold firmly to what we believe. This High Priest of ours understands our weaknesses, for he faced all of the same testings we do, yet he did not sin. So let us come boldly to the throne of our gracious God. There we will receive his mercy, and we will find grace to help us when we need it most. – Hebrews 4:14-16 (NLT)
God invites us to come boldly into His throne room, bringing our request to God the Father through Jesus. When I pray in Jesus name, I have a written invitation to bring bold requests before the Father. Praying in Jesus name brings access to God the Father.
Praying in Jesus name is about Submission
When I pray in Jesus name, I submit my prayer to the will and desire of God. Maybe we should turn it around and begin our prayer "in Jesus name." When I pray in Jesus name I am saying I don't want anything that God doesn't want for me. I want my prayers to line up perfectly with the will of God for my life. If I am praying outside of God's will, I want Him to ignore it, and to show me how to change my prayer so it lines up with what He is doing in my life. As I mentioned last week, that's why it's important to allow God to lead your prayer. We need to listen for His guidance as we pray.
Here is what John the Apostle said in 1 John 5:14-15
This is the confidence which we have before Him, that, if we ask anything according to His will, He hears us. And if we know that He hears us in whatever we ask, we know that we have the requests which we have asked from Him.
Praying in Jesus name isn't about coming to God with my wish list of requests but submitting my prayer to the will of God for my life.
Praying in Jesus name is about Authority
Praying in Jesus name is all about the authority Christ has given us. He has commanded us to use His name and authority when we pray.  Jesus said this in John 14:13-14
"Whatever you ask in My name, that will I do, so that the Father may be glorified in the Son. If you ask Me anything in My name, I will do it."
Jesus has given His followers authority to use His name in prayer. When someone uses the phrase "in the name of" they are taking the authority that has been invested in them by the person or instruction they refer to.  In old movies and TV shows a policeman would say "stop in the name of the law." He was not using his authority, but the authority of the state, community, maybe even the Federal Government.
When my son was in high school, we had a swimming pool in our backyard. That meant there were always High School boys at our house. There is one thing that all high school boys have in common; they love to eat. A group of high school boys is like a swarm of locust entering your kitchen. When they leave, there is edible nothing left.
It wasn't uncommon for me to greet a young man heading to the door with handfuls of snack and drinks. My first reaction would be to say, "who are you and why are you stealing my cupcakes?" As soon as one of these guys would see me, their first response was to say, "It's ok, Jason said I could have these."
As a loving father my immediate response was always "if Jason said it was ok, then great, make yourself at home, anything you need, just let me know."
My son had given the boy authority in my house to eat whatever he wanted (including my favorite dessert). He took authority over my refrigerator and pantry because my son had given him that authority.
Jesus has given us the authority to as whatever we wish of our Heavenly Father. Praying in Jesus name is about taking hold of the authority Christ has given us to lift up big prayers to a big God.
When you pray, don't let "in Jesus name" just be tagline at the end of your prayer. Remember, through the name of Jesus we have access to the presence of God we are submitting our prayer to the will of God and taking authority God has given us through His Son Jesus.
Be sure and share your thoughts and comments below.