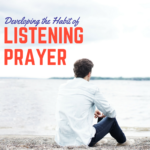 I grew up hearing that prayer was a conversation between you and God.
Conversation implies that both parties are speaking. We speak to God, and He speaks to us. However, most of my prayer life has been a one-way conversation. I came to God with my praise and prayer, then left.
I was like that friend who you see at the grocery store. They dominate the conversation with every detail of their life, but when you begin to share what's going on with your family, they suddenly have to go. My prayer life was me going through my prayer requests, saying amen and then moving on.
God invites us into a conversation with Him. In Jeremiah 33:3 God says, "Call to me, and I will answer you, and I will tell you great and mighty things, which you do not know."
Did you catch that? God wants to speak to us. He wants to tell us great and mighty things.
God promises that when we call on Him, He will hear, answer and speak. Prayer is our calling out to God, and Him answering.
Unfortunately, we rarely give God a chance to speak to us. We blow into our prayer time, go through our list of requests, then check out without even giving God a chance to reply.
How many times have you asked God for wisdom or direction, then rushed off, not taking the time to wait for His response. If prayer is a conversation, then we must give God an opportunity to speak to us.
For many years, I thought my prayer time had to be filled with me speaking. When I tried to spend extended time in prayer, I simply ran out of things to ask God for. I would confess my sins, go through my prayer list, pray for everyone I knew, and just a few minutes had passed. I thought, "How could someone spend 30 minutes in prayer, I could never talk to God for that long. Once I learned that listening prayer is just as important as asking prayer; spending time with God became a wonderful time of conversation with God the Father. I share what is on my heart, and He speaks to me.
If listening prayer is new to you, here are four things to help develop the habit of listening prayer.
1. Ask God what you should be praying about.
When we sit down with friends, we often ask, "What would you like to talk about?" When you approach your prayer time, why not ask God what He wants to talk about? Let Him lead your prayer. By asking God to lead your prayer time, you submit your prayer to Him. When you allow God's Holy Spirit to direct your prayers, you will find new fulfillment and confidence in your prayer.
2. Expect God to respond
Do you expect to hear from God when you pray? Do you really think God wants to speak to you? Are you expecting God to give you wisdom when you ask for wisdom? An expectant heart is an indicator of faith. Next time you pray, expect God to speak to you.
3. Still Your Heart When You Pray
You can't rush into the presence of the living God. Take a moment and still and quieten your heart. Many of us are uncomfortable with silence. The air must be filled with music, television or something. Quiet is not something many of us do well. I have learned over the years that God still speaks in the quiet moments. God rarely shouts over the noise of our lives. If we are going to hear from Him, we have to still our hearts.
God rarely shouts over the noise of our lives.
4. Wait with an open and listening heart.
There are great promises in the Bible related to waiting on God. Sometimes I feel like God is saying "I will answer you if you will just allow me to get a word in edgewise." Welcome God to speak to you, and then wait for Him to speak. Isn't it amazing that we can spend an hour in the waiting room at the Doctor's office, but not spend two minutes waiting for the presence and word of God? God speaks on His timetable, not ours. When we wait on Him with a listening heart we honor Him by submitting out time into His hands.
Developing the habit of listening when we pray will open new and exciting avenues in our prayer time. You don't have to be the one who always speaks, open your heart, close your mouth, quiet your spirit, and wait for that quiet still voice. I think you will be amazed at what you heart God say to you.
What's your experience in listening prayer? Share it in the comments below.