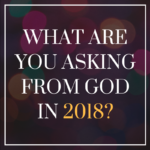 As we begin this new year, what are you asking from God in 2018?
What is the one thing you are praying for that if God were to answer, would change everything?
God is not intimidated by big prayers, in fact, He welcomes them. God wants to do great and mighty things in your life in 2018, and He is waiting for you to ask.
In the book "Build to Last," Jim Collins coined the phrase, "Big Hairy Audacious Goal" These are goals, which if accomplished would change the course of a company or even a nation.
Bill Gates had a goal of putting a personal computer in every home. At the time most people couldn't imagine why they would even need a computer in their home. Now almost every household has a least one computer. That one goal created an entirely new sector of business and until recently made Bill Gates the richest man in the world.
When President Kennedy announced the goal of putting a man on the moon back in 1961, it was a big hairy audacious goal. The technology needed to accomplish the goal didn't even exist at the time. Many leaders and scientist weren't even sure it was possible, but that one goal changed the course of a nation.
If the world can have big hairy audacious goals, why shouldn't we as Christians have big hairy audacious prayers? Why not pray prayers that shake heaven, and stretch our faith?
Do you have a big hairy audacious prayer for 2018? Why not?
Most of us underestimate what God wants to do
Most of us underestimate what God wants to do in our life. We pray small safe prayers. We don't ask for God for miraculous healing; we pray for Him to be with the doctors – safe, small prayers. It may be because we just don't have the faith to ask big prayers, or that we're afraid God won't answer, or maybe with just don't think we deserve for God to answer our big prayers. For whatever reason, it seems we just don't offer up big prayers to our Heavenly Father.
But what if you began praying Big Hairy Audacious Prayers. Prayers like those we see in the Bible; prayers that stretch our faith.
Most of us need to enlarge our view of the God we serve. We need to pray bigger prayers to a bigger God.
When God spoke to the prophet Jeremiah in Jeremiah 32, He reminded the prophet that God is not limited in His power. – Jeremiah 32:26-27
Then the word of the LORD came to Jeremiah, saying, "Behold, I am the LORD, the God of all flesh; is anything too difficult for Me?"
There is nothing we can ask of God that is going to stretch His ability to accomplish. You will never lift up a prayer that challenges God to answer.
More importantly, God wants to do great things for us. One of my favorite verses in the New Testament is found at the end of the book of Ephesians. As Paul wraps up his letter to the church, he says this,
Now to Him who is able to do far more abundantly beyond all that we ask or think, according to the power that works within us, to Him be the glory in the church and in Christ Jesus to all generations forever and ever. Amen. – Ephesians 3:20-21
Did you catch that little word in the first phrase? God says he is able to far more abundantly beyond all that we ASK. No matter what you ask of God, He is able and wants to do more. In fact, you can't even imagine the great things God wants to do in your life.
We Are Not Asking
For many of us, we aren't seeing God answer Big Hairy Audacious Prayers because we simply aren't asking them.
James 4:2 says "you do not have because you do not ask."
Isn't it time you stretched your faith and ask big things from God? Little children don't have a problem asking big things from their parents. Having raised three children there were times when my children asked for things their father could not accomplish. But as the children of God, we can ask great things from a great God.
We Will Regret What We Didn't Ask God For
I believe that one of the great regrets we will have as we look back over our life is that we didn't ask God for enough. We will regret that we didn't stretch our faith and trust God for greater things. I don't want to look back on my life and regret that I settled for little comfortable prayers when I should have been asking Big Hairy Audacious Prayers.
I want to fill my life with big prayers that call out to a big God and I know you do too.
Take a Moment
Take a moment and think about what you should be asking from God in 2018? What is that Big Hairy Audacious Prayer you should be asking for your Father? What is that prayer, that if God were to answer, would change everything in your life?
What is the big prayer that only God could accomplish in your life? What is that one thing you are expecting God to do for you in 2018?
Write it down, pray it every day, and let's see what Big Hairy Audacious things God does in 2018.
Why not share your Big Hairy Audacious Prayer in the comments below.