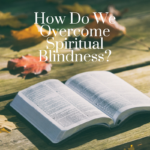 It is amazing how quickly we can get so used to something that we no longer see it. Recently we put our house up for sale. As we begin to examine our house in preparation for sale, I began to see things I had not noticed before. Marks on wall, broken areas of the fence, scuff marks on the baseboard, and don't even get me started on the carpet.
We have a unique ability to ignore things. If you ignore something long enough, it no longer bothers you, and eventually, you don't even see it. The same thing can happen in our spiritual life.
We can become blind to the condition of our heart. When we become spiritually blind, we no longer see the sin and compromise we have allowed into our life.
Sin No Longer Bothers Us
We no longer are troubled by our sin, because we no longer see it for what it is. We used to confess that sin; then we excused that sin. Eventually, we ignored that sin, and now we don't even see it. It's a downhill slide to spiritual blindness.
The longer we refuse to deal with sin in our life, the blinder we become to it. Our spiritual blindness keeps us from seeing our need for restoration.
We sail our spiritual ship thinking all is well, and never see the holes in the hull that are flooding the ship.
So How do We Overcome Spiritual Blindness?
It begins with an admission of blindness. We have to admit there may be areas in our life where we have become spiritually blind. Until we admit our blindness, we can't receive spiritual healing. Jesus asked the blind man, "What do you want me to do for you?" If he had said, my right knee has been giving me problems, could you heal that? He would have remained blind.
Could it be we ask God for so many things, but never asking for the essential need of our heart?
Second, we need it invite God to examine our heart. We ask God to show us any areas of our life where we have become spiritually blind. Jesus said that one of the things the Holy Spirit does is convict of sin. (John 16:8) We need to echo the prayer of the psalmist when he said,
Search me, O God, and know my heart! Try me and know my thoughts! – Psalm 139:23
Third, as God reveals areas of spiritual blindness, deal with them. It may be a sin you need to confess and repent of, it may be hurt or bitterness you have retained, or it may be an area of disobedience you may be involved in. Whatever the area, deal with it. Jesus came to give us freedom and forgiveness. If you refuse or postpone dealing with it, you will go back to where you were, spiritually blind.
Fourth, rinse and repeat. Often as we begin to open our eyes to our blindness, God shows us other areas of blindness in our life. Each layer we deal with gives us greater vision and clarity.
Jesus came to bring sight to the blind. As his children, we can live with eyes wide open to all He is and all we are in Him.
What areas do you see spiritual blindness in your life and the church today?