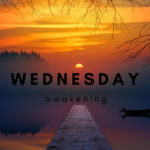 Have you ever woke up, not knowing you have gone to sleep? Maybe you had drifted off during a ball game or TV show. Maybe you were reading and slipped into a short nap. Perhaps, you closed your eyes to pray but wound up falling asleep.
The National Highway Traffic Safety Administration estimates an incredible 100,000 accidents occur each year because drivers either fell asleep at the wheel or were driving drowsy.
Here's the point. You didn't realize you were asleep until you woke up. 
The desperate need for in the church today is to wake up. We have drifted off into spiritual slumber and are missing out on all God has for us. How many churches are failing because of spiritual slumber? How many Christians are living their life spiritually drowsy?
When we live in spiritual slumber, we miss out on all God has for us. We miss out on His presence and power flowing through us. When our churches are filled with slumbering Christians, there is much activity, but little work of the Spirit.
The Problem with spiritual slumber
The tragedy is slumbering Christians don't know they are asleep. For so many Christians, they think all is well because they don't know they are sleep. They slumber along, secure in their salvation, but sleep to what God wants to do in them and through them.
We need a wakeup call to the church and to Christians. We need a trumpet blast of the Holy Spirit to wake us up from our slumber. We need to open our eyes and realize we have been asleep. We need God to rouse us from our nap and open our eyes to the fact we have been in a slumber.
Jesus told the church in Saris,
Wake up! Strengthen what remains and is about to die, for I have not found your deeds complete in the sight of my God. – Revelation 3:2
The consequences of spiritual slumber are dead churches, weak Christians and a world missing the voice of God in the culture.
Today let's pray for a spiritual wakeup call to the church and Christians across the country. Let's ask God to awaken slumbering Christians to all He has for them.
Ask God to show us areas in your life where we may have drifted off to sleep and are experiencing spiritual slumber. Ask God to shake us awake to His presence in our life.
God wake me up to my own spiritual slumber. Sound the alarm in my ear to open my eyes to your presence within me. Keep me from being so spiritually comfortable that I drift off into slumber. Keep my eyes open and my heart awake to You today.
In Jesus Name,
Amen