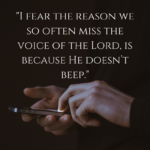 We live in a disturbed world. Not the disturbed that unloads a gun on people in a Colorado movie theater, but the disturbed that interrupts what we do every 23 seconds. According to author John Freeman,
600 million emails are sent every 10 minutes. (Ever feel that most of them land in your inbox)?
65% of North Americans spend more time with their computers than with their spouses.
The average corporate worker spends 40% of his or her time sending or receiving emails.
49% of all drivers with cell phones text while driving.
When was the last time you had lunch with someone where his or her phone didn't ring, beep, or play the annoying part of a rock song? How often do you lay your phone on top of the table, just in case a life changing email were to come through? (By the way, has it?)
The problem living a disturbed life, is well, it's disturbing. Mobile technology is literally rewiring our brains. Our attention span is getting smaller and smaller, and our ability to focus and concentrate is continually shrinking. We are suffering from global ADD.
Quick question, have you check your email, or text since starting this article? See what I mean!
"Attention is one of the most valuable modern resources. If we waste it on frivolous communication, we will have nothing left when we really need it." – John Freeman, Tyranny of E-mail.
So, what does this have to do with my walk with God? Simple, God doesn't text. He doesn't email or Tweet. God speaks in the still voice of our spirit, and right now, I am afraid we can't hear Him for all the noise.
When was the last time you stopped and listened for the voice of God? He is God; He doesn't have to communicate on our schedule or along our guidelines.
We want the unmistakable, lightning flash of revelation when we listen for His voice, but like the Old Testament prophet, we find Him most in the still small voice.
"And he said, Go forth, and stand upon the mount before the LORD. And, behold, the LORD passed by, and a great and strong wind rent the mountains, and brake in pieces the rocks before the LORD; but the LORD was not in the wind: and after the wind an earthquake; but the LORD was not in the earthquake: And after the earthquake a fire; but the LORD was not in the fire: and after the fire a still small voice."  – 1 Kings 19:11-12 (KJV)
If we are going to be led by the Spirit, and follow the Lord's guidance, we have to come to Him as God, not as a Twitter fan.
I fear the reason we so often miss the voice of the Lord, is because He doesn't beep.
Next time you are seeking the voice of God, turn off the phone (Ok, at least put it in the other room), turn off email, and everything else that might beep, honk, ding, or quack. Stop and quietly listen for his voice.
Maybe that's why Jesus said,
"But you, when you pray, go into your inner room, close your door and pray to your Father who is in secret, and your Father who sees what is done in secret will reward you. – Matthew 6:6 (NASB)
Next time you pray, shut the door to the disturbed life and silently wait for soft voice of God.
The secret to living successfully in a disturbed
world is spending undisturbed time with God.
What distracts you from hearing the voice of God?