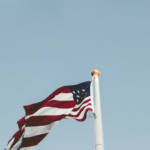 As you look around the country, it's easy to see a place that needs some change. We seem to have issues running out our ears. From the national debt to the healthcare debate, from moral decline, or the fragile state of the family. After all these years, we still face issues of race, inequality, and prejudice. On top of that, the economy continues to struggle and people are still losing their jobs or unable to find employment.
Let's face it our nation is hurting. Try as our leaders may, it seems that most of our problems lay beyond our abilities to find solutions; but maybe that's the way it was meant. As never before we need solutions that go beyond our abilities, we need help that goes beyond our own thinking – we need a miracle. We need wisdom that doesn't come from our own effort or intelligence, but from God. We need the hand of God to return to the United States.
We need a spiritual awakening. This help will come when the people of God come together and begin to cry for God's help. We have tried our ideas, we have tried our programs. Isn't it time we sought God's answer? Greed will not be eliminated by an "occupation" of Wall Street. Inequality will not be removed through education. Hope will not be restored by a political speech. The only way a nation can change is by changing the hearts of people. Change the heart and you change the person. The only one capable of changing a heart is God. Only the power of Christ can truly change a heart.
Only the power of Christ can change our nation. The National Prayer Room is about bringing Christians together to pray. Encouraging Christians to prayer more frequently and teaching Christians how to pray more effectively.
The National Prayer Room is not about politics or personalities, it's not about denominations or dogmas, it's about prayer. It's a grassroots movement to encourage Christians to call out to God for renewal, revival, and restoration. If this mission rings true in your heart, join us in the movement.