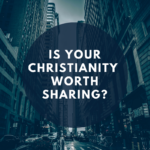 Recently I read a book written way back in 1923. There is something about older books that can give you a new perspective on life today. Before I finished the first page, the author hooked me with a question I have thought about again and again over the last few months.
The answer to the question reveals one of the indicators of our need for spiritual awakening.
Here's the question that caught my attention,
Is your Christianity worth sharing?